I am Stef Blomberg, the founder of Woof-o individual dog walking service.
I grew up with many kinds of animals such as; horses, cats, rabbits, turtles, birds and of course dogs. At the age of 31 I welcomed Higgins, (or Tilman ut Eyther Land, as stated in his pedigree) a beautiful Gordon Setter into our family. Higgins was a beloved family member for more than 10 years. After my move from Germany to the Netherlands there was unfortunately no time or space for a new dog. In order to stay in contact with these wonderful animals, I worked voluntarily in several animal shelters, this was very rewarding and gave me a lot of joy.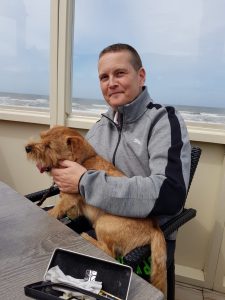 In 2017 I decided to retrain and successfully completed my training at the Martin Gaus Academie to become a qualified dog walker. For me this was the first step in making my dream a reality. To be together with my soulmates every day is simply the most beautiful thing in the world for me. Equipped with the necessary skills and knowledge, I am now able to work with dogs in a professional capacity.
Since spring 2018 I am working voluntarilly at the animal shelter in Zaandam. I am walking and training their dogs and helping future owners to handle the dog which they are about to adopt.
Since april 2019 I am studying at the Dutch Association for Instructors in Dog Education and Training to become a certified dog trainer.