woof-o: tailored service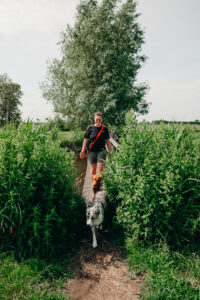 woof-o is the dog walking service in the Amsterdam North area that is completely tailored to the needs of your best friend.
woof-o offers small group walks (3 to 4 dogs).
Small groups provide peace and safety
woof-o group walks give your best friend the appropriate exercise and contact with other dogs. Under Woof-o's professional supervision, a Woof-o group walk strives to give every dog enough space to sniff, to explore and to peacefully interact with other dogs.
woof-o prefers a friendly and calm walk. Running wild and rollicking about can easily develop into a conflict between dogs. But, in a  Woof-o small group walk, conflicts  are quickly, efficiently and professionally managed.
Training
woof-o will not only walk your dog but also train it if needed. Think of walking properly on a leash, following commands, maintaining self-control or any other need your dog might have.
Qualifications
woof-o owner, Stef Blomberg, is officially recognized as a certified dogwalker by Martin Gaus Academie and is currently studying  to become a certified dog trainer.
woof-o is member of

the Dutch Association for Instructors in Dog Education and Training*

*O&O Nederlandse Vereniging voor Instructeurs in HondenOpvoeding en -Opleiding
Monique Bladder – Lesson "Relation between Behavior and Health"
Monique Bladder – Lesson "How to handle fearfull and/or insecure dog"
Suzanne Steenbergen – Lesson "The rescue dog"
NEWS  NEWS  NEWS
28.12. 2020 – 03.01.2021 – Vacation (there will be no walks during this period)
per 01 January 2021  – new prices (will be published mid of december)